Follow the Indian Premier League 2020 live cricket score on Sports.NDTV.com. After 20.0 overs, Rajasthan Royals, chasing a target of 162, are 148/8. Get live score, ball by ball commentary and much more. Keep track of Indian Premier League 2020 today match between Delhi Capitals and Rajasthan Royals. Everything related to Delhi Capitals and Rajasthan Royals match will be available on Sports.NDTV.com. Stay updated with Delhi Capitals vs Rajasthan Royals live score. Do check for Delhi Capitals vs Rajasthan Royals scorecard. You can get scorecard updates, match related facts. Get quick live updates with ads, Sports.NDTV.com, which is the perfect destination for live cricket score.


Stay tuned for the presentation as we will hear from the victorious Delhi skipper and also find out who the Man of the Match is.




The runaway leading wicket-taker of the tournament and the leader of the mouthwatering Delhi bowling attack, Kagiso Rabada is up for a chat. Starts by saying that he is happy to win the game. Feels that Stokes and Buttler were superb at the start but the change of pace worked for them. Says that he is learning from Nortje and tells that he is really fast. Adds that he shares his experience with him. On his ball that clocked 156 kph, Rabada says that he is really happy for him but is not happy for the one who faces that ball. Tells that they do not think too much about the speed gun while bowling. On Tushar, Rabada says that the young man has a passion for the game and he bowls a good speed too. Feels that he can be a good prospect for India in the future.


Steven Smith, Rajasthan's captain, says that they had a partnership at intervals but kept losing wickets. They needed a big partnership towards the end which did not happen, he says. Adds that they bowled well towards the end earlier.States that Archer has been amazing for Rajasthan while Nortje and Rabada has been exceptional for Delhi. Smith says that they will look on the areas to improve and will work on it. Says that they have a big game in 3 days time and it is important to work on the shortcomings before that.


Earlier in the evening, it was Shreyas Iyer who won the crucial toss and optd to bat. His side did not get off toa good start but a blistering 57 off just 33 balls from Dhawan along with a fighting 53 from the skipper himself took the side to a very competitive total of 161 on a pitch that was not easy to bat on. Jofra Archer was fierce and a treat to watch for Rajasthan as he finished with 3/19 but his efforts were not enough for his side to restrict Delhi to a total Rajasthan could chase.


What a owling performance from Delhi! They look like a champion side and have the feel of a champion side. This looks like the year their trophy drought gets over. This was a game they had no right to win but champions find a way to win such games and Delhi managed to do just that. Defending 161, Delhi did not start well with the ball. Though they picked two wickets inside the Powerplay.They were also taken to the attack. It was Rajasthan's game till the halfway stage of the chase but after that the Delhi bowlers showed what they are made of. Rabada, Nortje, Axar Patel, Ashwin and the debutant Tshar Deshpande. They all changed gears and demolished and strangled the Rajasthan batting. Deshpande and Nortje got 2 while the other three got one. It was just a champion bowling display from the side from the capital!


Rajasthan have done to themselves what they did Punjab and Hyderabad. They won those two games when defeat looked inevitable but tonight they have shot themselves and lost a game which they were dominating for most of the game. Chasing 162, Buttler and Stokes got them off to a flier before the former departed. Smith too followed suite but Stokes continued his merry way and was cruising along with Samson. The pair were motoring along the chase before Stokes departed. What followed was some poor batting. Rajasthan lost wickets in cluster and though Uthapa found some form it was not good enough. The man with the Midas touch, Rahul Tewatia could not weave his magic and Rajasthan just fell off a cliff.


They say batting wins you matches but bowling wins you championship. If that saying holds true then this might as well be Delhi's year. The team from the capital city have turned the game around and roared their way into the top of the table, courtesy a phenomenal bowling display at the death! Rajasthan will be kicking themselves as they looked on course to win but Delhi have done the double over the this season.

19.6 overs (0 Run)
OUT! CAUGHT! A brilliant win for Delhi. Tushar Deshpande has been excellent in the end. Full and well outside off, Gopal hits it uppishly towards backward point. The substitute fielder takes the catch. DELHI WIN BY 13 RUNS.

19.5 overs (4 Runs)
FOUR! Full and well outside off, Gopal throws the kitchen sink at it. Gets a thick outside edge which flies to the third man fence.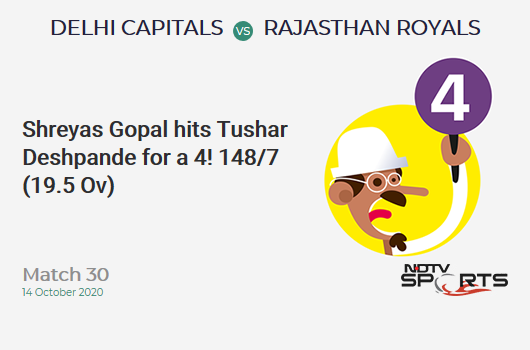 19.4 overs (1 Run)
A catch? Nope. Was supposed to be one but ends up being a single. Deshpande is not happy with Gopal. Fullish ball outside off, Tewatia hits it high in the air, to the right of the bowler. Deshpande wants to take that one, so he runs in, but is sort of blocked by Gopal who had taken off to the striker's end for a single. Both of them almost collide, luckily, avert it. But Gopal sort of spoils the catch and pulls back from the single. Deshpande though is not happy with Gopal. He is fuming.

19.3 overs (0 Run)
Low full toss around off, Tewatia hits it but finds short mid-wicket.

19.2 overs (1 Run)
Full and outside off, driven through mid on for a single.

19.1 overs (1 Run)
Excellent save from Rahane at the deep. Just the single. Full and well outside off, Tewatia reaches out and hits it high and mighty towards wide long off. Rahane there, jumps, but he knows he would go inside the ropes so he pushes the ball back in and falls inside the ropes. Nobody to catch it as he flicked it in, so Rahane gets back up from inside the ropes, comes into play and then throws the ball back in. Just the single. But what a magnificent fielding effort from him.


Is that a save? Or is it a six? It is a save, excellent effort from Rahane.

19.1 overs (1 Run)
WIDE! A fair call, full and well outside off, just past the tramline, Tewatia lets it be. Wide called.


Who will bowl the last over? Tushar Deshpande it is.

18.6 overs (1 Run)
Short ball, Tewatia pulls it to wide long on and takes the single. He wants the strike and will keep it. 22 needed in the last over.

18.5 overs (1 Run)
Full and outside off, driven through the covers for a single.


Who will walk out to bat now? Shreyas Gopal walks out to bat.

18.4 overs (0 Run)
OUT! CAUGHT! Some high quality death bowling this from Delhi. They have gone to their experienced bowlers – Rabada and Nortje – both have delivered. Full and in the blockhole outside off, Archer digs it out, uppishly but straight into the hands of Rahane at point.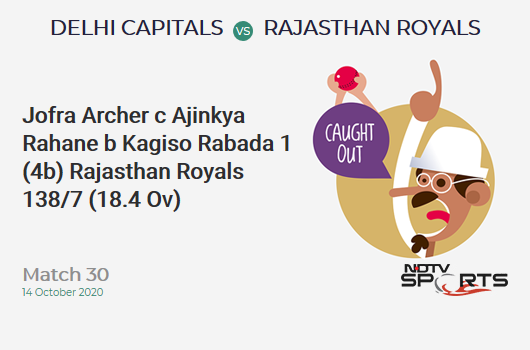 18.3 overs (0 Run)
Short ball, more pace this time, outside off, Archer looks to pull but misses it completely. Close to being called a no ball due to the height, luckily for Delhi not so.

18.2 overs (0 Run)
Digs in a slow short ball outside off, it keeps very low though. Goes under the swinging blade of Archer on its way to Carey.

18.1 overs (1 Run)
Very low full toss around off, Tewatia gives himself room on the off side and gets it past Rabada. Mid on mops it up. A single taken.

17.6 overs (1 Run)
Low full toss outside off, Tewatia drives to long off and takes a single. Just 4 runs off it and a wicket as well. 25 needed in 12 balls for Rajasthan now. Brilliant over from Nortje.

17.5 overs (0 Run)
Back of a length slower ball outside off, Tewatia moves across his stumps and looked to work that over fine leg. Misses completely.

17.4 overs (1 Run)
Full and around middle and leg, Archer swings it uppishly towards long on. Takes one and wants two but Tewatia says no. Needs to keep his calm here, Archer. Plenty of balls left. No need to take unnecessary risks.


Who will walk out to bat now? Jofra Archer it is.

17.3 overs (0 Run)
OUT! BOWLED! Uthappa goes. A big, big wicket for Delhi in the circumstances. Very full, almost a yorker, on middle. Uthappa moves to the leg side, comes down and looked to go big over covers. However, he cannot get the length of the ball right. Misses and it hits the stumps behind.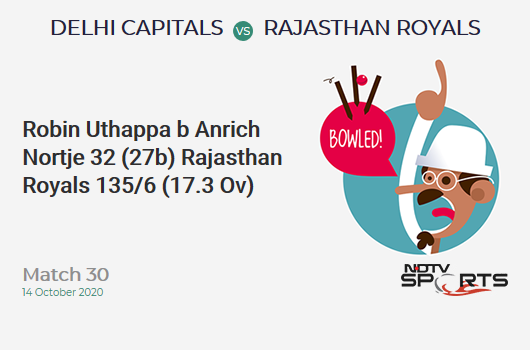 17.2 overs (1 Run)
Full and around off, Tewatia looked to heave on the leg side. Ends up getting a bottom edge. It goes towards third man, to Rabada's right there. Falls safely though and a single is taken.

17.1 overs (1 Run)
Uthappa shuffles across and looks to paddle this over fine leg. Misses. So does the keeper on the first attempt. Rajasthan sneak in a bye before Carey collects it again.


Ravichandran Ashwin has completed his 4 overs. Anrich Nortje to bowl his last. 3-0-30-1 so far.

16.6 overs (0 Run)
A dot to finish. Full on middle and leg, Tewatia clips it but finds the man at short mid-wicket. 29 needed in 3 overs for Rajasthan.

16.5 overs (4 Runs)
FOUR! Excellent improvisation. Back of a length ball, Tewatia sways away and uppercuts it over the keeper's head to the third man boundary.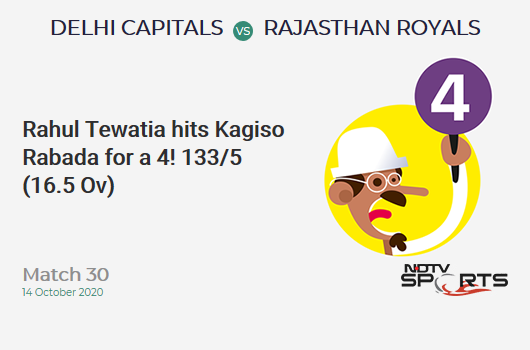 16.4 overs (1 Run)
A quick single this. Uthappa looked to work this on the on side again but gets a leading edge to backward point. Takes a quick one.

16.3 overs (2 Runs)
Short ball, pulled over mid-wicket for a couple.

16.2 overs (0 Run)
So close to a catch for Rabada! Legcutter, dug in short, Uthappa goes for the pull, too early. Gets an edge which goes to the left of Rabada. The bowler dives to his left and looks to pouch it but it was beyond his stretch.

16.1 overs (1 Run)
Outside off, worked on the off side for a single.


Kagiso Rabada is back in the attack. 2-0-17-0 for him.

15.6 overs (1 Run)
A single and just two from the over. Flatter ball around off, Tewatia hits it towards point and takes a single to keep strike. 37 needed in 4 overs for Rajasthan.

15.5 overs (0 Run)
Full on off, knocked to the off side. Tewatia wanted the single but Uthappa says no.

15.4 overs (0 Run)
Outside off, flat, dabbed to point for a dot.

15.3 overs (0 Run)
Flatter on off, Tewatia hits it back to Ashwin.

15.2 overs (0 Run)
On the shorter side outside off, Tewatia rocks back and punches it to cover-point.

15.1 overs (1 Run)
Flat carrom ball outside off, Uthappa taps it on the off side for a single.
Match Reports
Topics mentioned in this article