A dedicated team of experts bring you live score, live cricket score, live match update on Sports.NDTV.com. After 20.0 overs, Kings XI Punjab, chasing a target of 172, are 177/2. The live updates of Royal Challengers Bangalore vs Kings XI Punjab scorecard is also available. It is the perfect platform to follow your favourite teams in Indian Premier League 2020. Keep a track on your favourite batsmen and bowlers through Indian Premier League 2020 today match, ball by ball commentary, Royal Challengers Bangalore vs Kings XI Punjab, Royal Challengers Bangalore vs Kings XI Punjab live score, Royal Challengers Bangalore vs Kings XI Punjab scorecard. Follow the excitement of the Indian Premier League 2020 on Sports.NDTV.com as you can follow live match updates and live cricket score through our platform.


Right then, what a humdinger it was. Decided on the last ball. Well….Looks like our wait for a Super Over clash gets a little longer. Or does it? What do we mean by that? Well, on Friday, 16th October 2020, two giants, Mumbai and Kolkata face off against each other. Woah…let's hope a Super Over comes our way then. Join us at 1800 Local (1400 GMT) for that clash. Until then, take care and good night…




Winning captain and also the MAN OF THE MATCH for his splendid 61 off 49 balls, KL Rahul, says that he has no idea, no words to describe what happened earlier. States that they needed to do well. Says that towards the end, it got too close to comfort but in the end they did manage to get through. Rahul says that losing continuously was frustrating for everyone, the support staff, the team, the players. Adds that it has been a crazy rollercoaster so far. States that as a first time as captain, Rahul says that playing as a leader becomes all the more important. Stresses on the need to keep the dressing room happy. Personal performances have not been on his mind, says Rahul, but also adds that he believes it is important for him to get a good deal of runs from his side. On Gayle, Rahul states that he was training hard and from the time he landed in Dubai Gayle was hungry and rearing. States that Gayle is still the same player, intimidating as he always is.


The Universe Boss, Chris Gayle, is up for a chat. He says that he was not nervous in the end. States that the Universe Boss, himself, never fears. Adds that the surface was very sticky and proved a very tricky one to bat on. On how he felt at batting at No. 3, Gayle chuckles and asks Kevin Pietersen if he thinks that the Universe Boss' record at No. 3 is not good. All have a heary laugh.


Virat Kohli, Bangalore's captain, says that it was quite surprising, admits that he thought that the game would finish in the 18th over. But it ended up going down to the wire. On the change in de Villiers' batting position, Kohli says that it was more to do with the left-hand, right-hand batting combinations and the legbreak bowlers that Punjab have. Admits honestly that it was a plan that did not work out. States that the pitch did not assist them much when Bangalore were batting earlier. Credits Punjab for playing well. Adds that one needs to admit responsibility for whatever has happened and take the learnings positively. Says that he told Chahal absolutely nothing in the last over, nothing apart from the last ball.


Virat Kohli and co. would have reckoned all was over the way Gayle and Rahul went hammer and tongs against Siraj and Sundar towards the end. But Punjab, somehow, took it to the last over, the last ball and that offered some hope for Bangalore. But it was punctured on the last ball as Punjab coasted through. Just the one wicket overall for Kohli's men, that of Agarwal, snared by Chahal. Morris and Saini bowled well with a tight economy rate but did not get any wickets. Chahal and Siraj were tonked out of the park. Sundar too had a pretty off day. Overall, a tough day for Bangalore in the office, a see-saw their fortunes were, some hopes, but false ones in the end. Stay tuned for the presentation…


After some pyrotechnics, sensing that they have gotten close to a victory, both Rahul and Gayle played watchfully against Morris and Udana towards the end. It went to the last over, surprising and should not have been. But it did. Super Over? Some hopes as Punjab were struggling to get 3 in the last over…yes just 3 runs. Gayle was run out in the penultimate ball as well. 1 needed in the last ball….Super Over?….Nope, Pooran gets a six and sees Punjab home, ending the dry run.


He pummeled a hapless Washington Sundar for two maximums in the 17th over. Before that, he and Rahul smashed 20 off the 16th over, where Siraj bowled. Rahul got to a well made half-ton and the Universe Boss followed him to his 50 as well. Excellent batting from both but more so from the latter as he was struggling to find his feet earlier, but did well to recover and launch some into orbit.


After Agarwal departed, in walked…the UNIVERSE BOSS, Chris Gayle. The first game for him this season, coming after the halfway mark in the League. Rahul was playing carefully after Agarwal got out, working the singles and diligently latching onto the bad balls and punishing it. The Universe Boss…well he was struggling to find his feet. Understandable because he has not played competitive cricket since February this year. So, he took his time to find the middle of his bat. But once he took some balls, uncharacteristic of him though, he decided it was time to launch the 'Six Machine' in him.


Punjab started off in their usual fashion. You know the openers gave them a good start and the same was the case here as well. A good 78-run partnership between Rahul and Agarwal, with the latter taking Chahal to the cleaners before getting bowled.


Spectacular! Quite spectacular from Punjab. Equally from Bangalore as well but in the end, they have to contend with a loss now. Magnificent stuff from Rahul's men. Well done by Kohli's men as well. But the better of the two won it in the end.

19.6 overs (6 Runs)
SIX! Just over! Nicholas Pooran has done it and Punjab almost threw it away once again but have found a way to get over the line. Tossed up on off, Pooran comes down the track and hits it over long on. Morris runs to his right and jumps but the ball is well away from him and over the ropes. PUNJAB WIN BY 8 WICKETS!


Who will walk out to face the final ball? Pooran, Maxwell or someone else? It is Pooran!

19.5 overs (0 Run)
OUT! RUN OUT! Gayle is well short of his crease and Punjab now need 1 off the final ball. Floated ball on off, Rahul drives it to cover and calls for a run. Gayle is neither the youngest nor the quickest. They take off for a run but the throw at the keeper's end is a good one by Padikkal. De Villiers whips the bails off and Gayle is well short.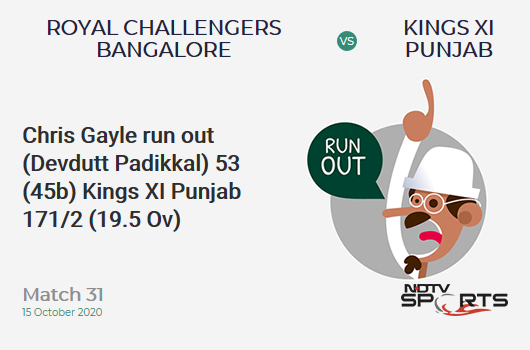 19.4 overs (0 Run)
Another dot! Flat and short around off, Rahul punches it uppishly but cannot find the gap. It is to point.

19.3 overs (1 Run)
Just a single. 1 needed off the final 3 balls. Excellent from Padikkal in the deep. Loopy ball outside off, Gayle stretches and sweeps it to the right of deep mid-wicket. Padikkal dives and saves it from going to the fence. Just a single taken.

19.2 overs (0 Run)
Another dot! 2 needed in 4 now. Loopy ball pitching outside the tramline. Gayle misses it but it turns in. Gayle leaves it thinking it to be wide but it is not.

19.1 overs (0 Run)
Dot ball! Short and spinning in, Gayle tucks it to mid-wicket.


Who will bowl the final over?  It will be Chahal. Can he do the unimaginable?

18.6 overs (1 Run)
Full toss on off, Gayle flicks it to deep mid-wicket and keeps the strike. 2 needed off the final over.

18.5 overs (1 Run)
Around off, Rahul squeezes it to deep point and takes one.

18.4 overs (0 Run)
Good over this from Udana. Very full outside off, Rahul strokes it to short extra cover.

18.3 overs (1 Run)
Full on the pads, Gayle looks to flick but misses. The ball hits his pad and goes to the on side. They take a leg bye.

18.2 overs (1 Run)
Full on middle, Rahul lifts it to the left of Morris at long on. Gets a single. 5 away from a win. Can Gayle finish with a biggie?

18.2 overs (1 Run)
WIDE! Shortish ball, seemed to have slipped out of Udana's hand. It is well, well outside off. Rahul leaves it.

18.1 overs (0 Run)
Yorker outside off, Rahul looks to play it through on the off side but misses.

17.6 overs (0 Run)
Slower yorker outside off, Gayle jams it to cover.

17.5 overs (0 Run)
Length ball on off, Gayle taps it to point.

17.4 overs (1 Run)
Low full toss on middle, Rahul glances it to mid-wicket and rotates the strike.

17.3 overs (0 Run)
Full on off, Rahul taps it back to the bowler.

17.2 overs (1 Run)
On the pads, Gayle turns it to the on side and gets to the other end. 8 away from a win.

17.2 overs (1 Run)
WIDE! Morris misses his line and bowls one down the leg side. CG looks to flick but misses.

17.1 overs (0 Run)
Shortish slower ball, Gayle swings across the line but misses.

17.1 overs (1 Run)
WIDE! Too wide outside off, Gayle leaves it and it has been wided.

16.6 overs (1 Run)
FIFTY FOR GAYLE! The fans were asking for the Gayle storm to arrive this season and it has arrived. His first game and the Universe Boss scores a fifty like a boss. Take a bow! All his teammates and the support staff are on their feet and applauding the champion. Flat and short ball on off, Gayle punches it to long off to get to his milestone. He points to the sticker on his bat which says, 'the Universe Boss'.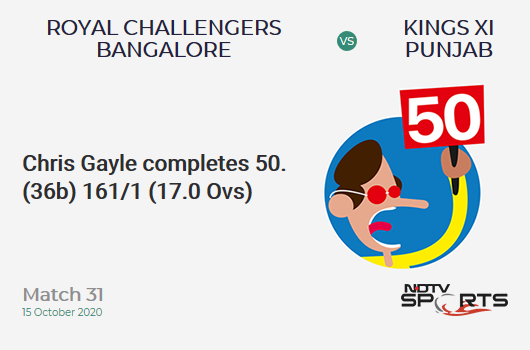 16.5 overs (1 Run)
On the pads, Rahul looks to pull but he misses. The ball hits his pad and goes to the on side. They take a leg bye.

16.4 overs (1 Run)
Flat around off, the Universe Boss pulls it to long on for one.

16.3 overs (6 Runs)
SIX! Another biggie. Not as big as the previous one but still gets half-a-dozen. Short but not that short, Gayle smashes it over long on for second maximum of the over.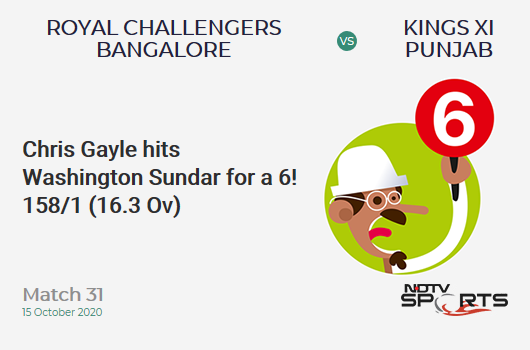 16.2 overs (0 Run)
Slow and turning away from the southpaw. It is outside off, Gayle leaves it alone.

16.1 overs (6 Runs)
SIX! Monster from Universe Boss! Short and quick on off, Gayle smashes it into the roof over long on for a 96m biggie.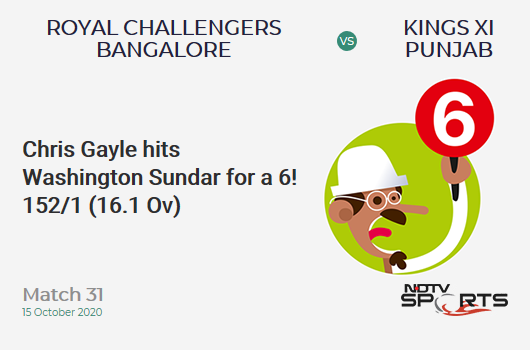 DRINKS! Punjab are cruising with their skipper adamant to not leave it too late and have that nervous end. The boys from North of India look well on course to do the double over Kohli's men. They need just 26 off 24 balls. If they manage to lose it from here then it will be a disaster class from them. Only a miracle can see Bangalore win this game. Can they do the unthinkable?

15.6 overs (1 Run)
Just the one. 20 off the over. Low full toss on the pads, Gayle closes the face of his bat to glance this to backward square leg. Takes a single.

15.5 overs (1 Run)
Very full, outside off, dug out to sweeper cover for a single. 19 off the over so far.

15.4 overs (6 Runs)
SIX! Up, up and away. Short ball, Rahul swivels and pulls this mightily over deep square leg for a six.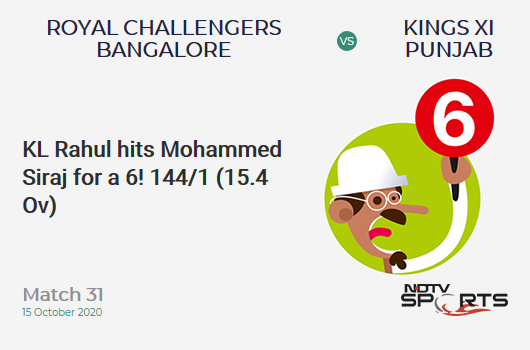 15.3 overs (1 Run)
Very full, just outside off, driven on the off side for one.

15.2 overs (6 Runs)
SIX! 35 runs needed in 28 balls now. Full and just outside off, Gayle lofts that high and well over wide long off.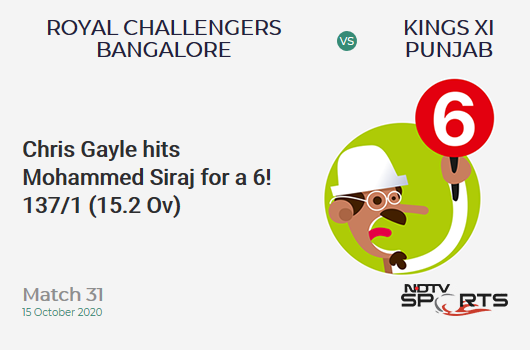 15.1 overs (4 Runs)
FOUR! Hits it firmly and gets a boundary. 50-run partnership between these two as well. Kohli is not happy that Siraj is not bowling to the plan. Full on off and middle, Gayle lifts it powerfully over the bowler's head for a boundary.

Match Reports
Topics mentioned in this article